The UK government has concerned itself with addressing what it terms 'illegal' migration, in particular those who cross the English Channel with the aim of claiming asylum in the UK. Last year, it introduced a policy of transferring asylum seekers to Rwanda for their claim to be settled there, though as yet that policy is still the subject of litigation in the courts. This week the Commons has passed legislation that would bar those who enter the UK via an unauthorized route from being able to seek asylum. Meanwhile, at the beginning of this year Prime Minister made 'stop the boats' one of his government's five key targets, whose achievement, he hopes, will improve his party's poor position in the opinion polls.
But is such a policy likely to be electorally effective? Even if the government does succeed in stopping the boats from crossing the English Channel, would that achievement be likely to help the Conservatives at the ballot box? We address this question using data collected as part the latest Brexit tracker poll by Redfield and Wilton Strategies for UK in a Changing Europe.
There is certainly little sign in the latest poll that the government's renewed emphasis on the issue has persuaded people that illegal immigration is being reduced. One question that Redfield & Wilton have asked regularly since February last year reads as follows:
In your opinion, has the level of illegal immigration into the United Kingdom gone up, gone down, or not changed much since the UK's departure from the European Union?
As the graph shows, during the last year consistently more than two in five voters took the view that illegal immigration has gone up since the UK left the EU. However, the figure edged closer towards a half in late 2022 and then rose by ten points to 56% shortly before Christmas – an increase fuelled perhaps by media reports that the number of migrants crossing the Channel was heading for a record annual total.
The proportion who believe that illegal immigration has gone up did fall back to below a half in February, not long after Mr Sunak promised to 'stop the boats', but it has now moved above the 50% mark again. It may be early days, but so far, at least, the government's promises of action have not persuaded voters that anything has changed in practice.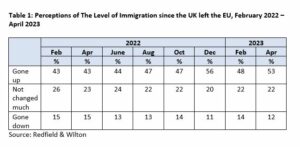 Of course, voters may not necessarily blame Brexit itself for the perceived increase in illegal immigration. However, many do. In the two polls it has conducted this year, Redfield and Wilton have also asked:
In your opinion, with the United Kingdom outside of the European Union, is illegal immigration into the United Kingdom higher, lower, or similar to what it would be otherwise?
In the latest poll as many as 46% say that illegal immigration is higher than it would otherwise be because of Brexit, slightly up on the 42% who took that view in February. Only 10% believe it is lower.
These numbers suggest the government is being entirely rational in trying to reduce the flow of migrants across the Channel. Given the attention the issue has attracted, many voters have evidently noticed an increase in numbers. Moreover, this is particularly true of those who voted Conservative in 2019, 61% of whom believe that illegal immigration is higher than it was before the UK left the EU, compared with 53% among voters as a whole -though only 44% of 2019 Conservative voters hold Brexit responsible.
However, if this issue has been costing the Conservatives votes, we would expect those 2019 Conservative voters who think that illegal immigration has increased to be less less likely than those who do not share that view to say they would back the party again.  But of such a pattern there is little sign.
True, only 54% of those 2019 Conservative voters who think that illegal immigration has increased since Brexit currently say that they would Conservative again at another election. But the figure is, if anything, even lower among those who say that illegal immigration has either fallen or that it has not changed much (49%). Meanwhile, at 49%, the level of continued loyalty among 2019 Conservatives who think that Brexit has resulted in higher illegal immigration is only marginally below that among those who think leaving the EU has either not made much difference or that it has occasioned a reduction in illegal immigration (56%).
If voters are not defecting from the Conservatives because of the level of illegal immigration, then it is doubtful they will be won back if the boats are indeed stopped. Meanwhile, the lack of any clear association between perceptions of what has happened to illegal immigration and willingness to vote Conservative again stands in marked contrast to the results of a similar analysis of voters' perceptions of the overall impact of Brexit.
Only 43% of those 2019 Conservative voters who think that Brexit has had a negative impact on the UK (and one in four Conservatives feel that way) are currently minded to vote Conservative again – compared with as many as 65% of those who believe leaving the EU has had a positive impact. Similarly, just 40% of those 2019 Conservative voters who say that the UK economy is weaker than it would be otherwise as a result of Brexit (one in three fall into that camp) are currently saying they will vote for the party again, well below the 68% figure among those who believe the economy is stronger.
Reducing the flow of migrants across the English Channel may be popular among the Conservative faithful. However, it is less clear that it will be effective at bringing less loyal supporters back into the Tory camp. To achieve that, Mr Sunak might find it more profitable to persuade more voters of the benefits of Brexit. After all, that is the prospect the party offered voters in 2019 when it promised 'to get Brexit done'.
This blog is also posted on the UK in a Changing Europe website

By John Curtice
John Curtice is Senior Research Fellow at NatCen and at 'UK in a Changing Europe', Professor of Politics at Strathclyde University, and Chief Commentator on the What UK Thinks: EU website.